About School
MGM High school is affiliated to CBSE Board and will be upgraded to IB(International Bacculerate). Hence fourth, It will be termed as 'MGM International School'.
MGM International School/High School has entered into the CBSE Curriculum since 2012 and affiliated to the CBSE Board.
MGM International School/High School is known for its high standard of education where great emphasis is laid on the complete and continuous interaction between teachers and pupils, both inside and outside classrooms. Today MGM International School/High School has a student strength of more than 1000, a large campus and school building that houses every facility required to mould well-rounded personalities that thrive in a competitive environment.
Proper stress is also laid on leadership qualities, patriotism and social behavior in a democratic society. This helps in building a feeling of national integration as our students hail from different communities.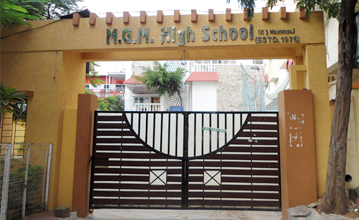 What Cbse Is All About
CBSE caters to the people all over India. It follows the curriculum as prescribed by the NCERT.
The child is groomed in a stress free atmosphere giving a lot of importance to activities rather than rote memory.The child is allowed to explore his latent talent and encouraged to grow in that direction.
A lot of importance is given to listening, speaking and reading. Writing is minimal in the primary classes.
All India competitive examinations are based on NCERT Syllabus.
In tune with the three language formula of the government the child will be well versed in English - the global language; Hindi - the National Language and Telugu - the Regional Language (in this case) by the time he/she passes out of the school.
Admission into all classes from PPII upwards is based on a written entrance test in English, Maths, Hindi / Telugu followed by an interaction with the Principal.
The candidate is tested on basic language skills and mathematical concepts pertaining to the class studying and not any prescribed text book / board.
A child coming from the SSC board must produce a transfer certificate countersigned by the DEO. A child coming from the CBSE board must produce a transfer certificate countersigned by the Regional co-ordinator.
Admission into PPII or Class I is strictly on the basis of the original date of birth certificate. The child must be 5 years completed by September of the year of entry into Class I. Only then he/she will have the required age to appear for Class X examination in due course.
There is a different fee structure for SSC & CBSE sections at MGM International School/High School.
CBSE is advantageous to people who are on transferable jobs ie., from one state to another. CBSE is helpful to candidates who are aspiring for admission into premier institutes like IITs, NITs, IIMs, Civil Services, Defence Academies etc. NEET exam, which gives eligibility for all medical colleges across the country for all the states is now based on CBSE syllabus.