Curriculum
Great emphasis is laid on the design of the curriculum and structure as we believe that it is a strong motivating factor that facilitates the learning process. The curriculum is designed in such a way that it forms a solid foundation for not only academics but also habits, values and other aspects of life skills which reflect in their personality throughout their life.
Our Academic program emphasizes on driving concepts home through experiential learning. We follow a balanced academic and co-curricular program that not only helps develop the child's interest in academics but also pursue their hobbies. Life Skills program enhances soft skills and creativity in students, works on their social skills thereby developing an all-round personality which will stand them in good stead when they meet the world head on.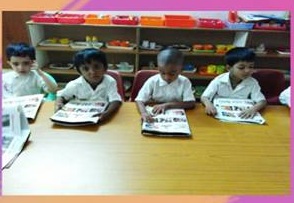 Learning outcomes emphasized in MGM International School/High School - CBSE section are as per the requirements of the CBSE Board both in Academic and Non-Academic areas.
The SSC stream follows the CCE pattern as per guidelines provided by the State Board.
The management has been ever forthcoming and enthusiastic in keeping pace with the changing needs of its students. Our school is equipped with infrastructure required to implement the curriculum in its intended spirit.
Subjects pursued in CBSE
Class I - V - English, Second Language (Hindi / Telugu), Maths, Science & Social Studies.
Classes VI - VIII - English, Second Language (Hindi / Telugu), Maths, Science, Social, Third Language(Telugu / Hindi). Upto class VIII the schools have the liberty to prescribe text books of any Private publisher based on CCE(Continuous and Comprehensive Evaluation) syllabi as prescribed by CBSE.
Classes IX - X - English, Second Language (Hindi / Telugu), Maths, Science & Social. (Only NCERT TextBooks).
Classes I - V syllabi is divided into 3 terms.
Classes VI - X syllabi is divided into 2 semesters.